Get your life safety equipment serviced at Asia's leading marine safety service station
Safety of one's life at sea is only as good as the competency of the safety and survival equipment on board. Over the last four decades of service, we have gained customer loyalty and confidence, with our supply, installation, inspection, test and maintenance of safety and survival equipment.
Our state-of-the-art life raft service station, located in Dubai, provides life raft service for all types of vessels and survival equipment, including same-day turnaround time. The service station is audited and approved to the highest standards by RFD in accordance with IMO regulation A.761 (18), to ensure customers always remain compliant and operate with annually inspected life rafts. Elcome is proud to be UAE's only service station of RFD Surviva brand of Survitec Group, which is part of the world's largest life raft service station network.
Maintenance activities offered for your life safety appliances
Service and repair of life rafts, marine evacuation systems, life jackets, and immersion suits.
Service and repair of rescue boats, workboats, lifeboats, and davits
Lifting and inspection services.
Testing of radio communication equipment and beacons.
Replacement of rations and supplies.
Temporary replacement of life rafts (stand-by rafts) is offered to continue the vessel voyage while vessel's life raft undergoes repair and service.
Provision of spares and consumables.
One of the largest authorised service stations in the world
Our life raft service station is approved and certified by Survitec Group for RFD Surviva, RFD Toyo, Toyo, Revere, and Crewsaver brands. Equipped with various test facilities, our certified life raft inspectors manage and control extensive service activities including:
Work pressure test – annual service.
Gas inflation test – every 5 years.
Floor seam test – 10th year onwards.
Necessary additional pressure test – 11th year onwards.
Load testing – davit launch rafts require this additional test once in 2 years, to inspect the durability and endurance of the raft.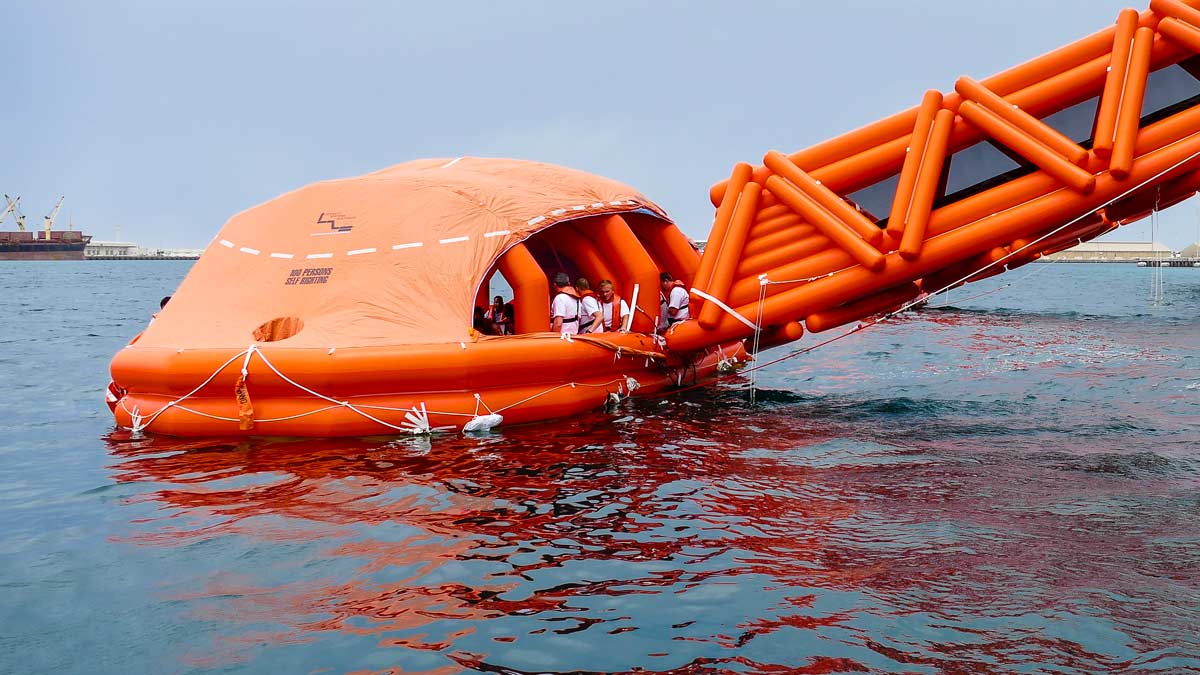 To protect the life at sea, get your ship's life raft serviced periodically
Approvals and certification
Lloyds
DNV-GL
Tasneef, UAE
Federal Transport Authority (FTA), UAE
United States Coast Guard (USCG)
Authorised service station for leading brands
Elcome is an authorised service provider of the Survitec Group that comprises RFD Surviva, RFD Ferryman, RFD Seasava, RFD Toyo, Toyo, Crewsaver and Revere. Additionally, Elcome is also a certified service centre for Liferaft Systems Australia (LSA), Unitor and Scott Safety.