Modular, safe, and reliable LV/MV marine switchboards for power distribution & management.
Tried, tested, and trusted for performance, our low & medium voltage rated switchboards are manufactured in our state-of-the-art production facility in UAE, using high quality switch gears and electrical components. Approved by all major classification societies for marine and offshore applications.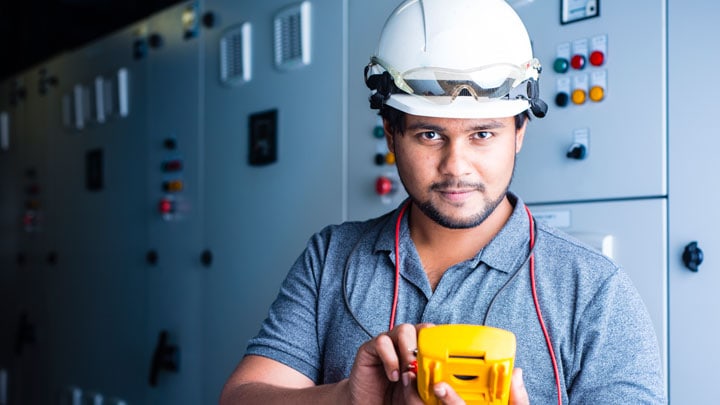 Engineered with customer focus
Our Dubai based production and assembly line facility can design and manufacture class approved switchboards within very short lead time to match your technical specification. We offer compact, affordable, and reliable switchboards, made-to-order that's backed with our world-class after-sales support. We have a fully qualified and experienced installation and commissioning team, who can work with your shipyard during the new build or retrofit process.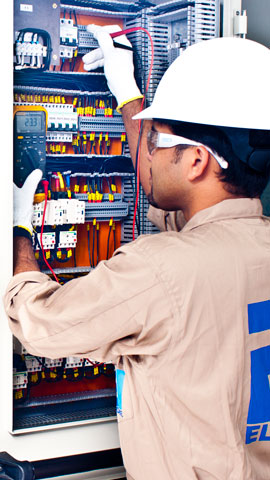 Features
A full suite of electrical system in accordance with the IEC standards.
Power system range: 220V to 6.6 kV.
Incorporated with alarm monitoring system and power management system.
Functional unit designs: Fixed, plug in, and withdrawable.
Synchronization and parallel operation of any diesel gensets for the purpose of continuous load sharing and load transfer.
Front and rear access designs suitable for top or bottom entry cables.
Can provide local and remote control stations as per customer requirements.
Modbus connection to ship's AMS.
ARC fault containment to IEC 61641.
Touch screen MIMIC panels, for operator interface and future flexibility.
Comes with controls, indications, and other necessary monitoring devices to enable easy operation of the switchboards.
Warranty period of 18 months from the date of supply.
Busbar capacity rated from 0 to 6300A.
Ingress protection of IP23 as standard with ratings available up to IP66.
LED based switchboard illumination (internal and external) for use during maintenance.
Standard paint finish RAL 7032 Light Grey. Custom paint finish available on request with all other RAL and BS colours.
Enclosures, doors, and covers are fabricated from 14SWG sheet steel. The complete switchboard is designed to form rigid structure meeting best marine standards.
Wall or floor mounting options available.
Contact Elcome

Pramod Nair
Senior Manager – Automation & Safety
Contact Elcome's electrical & automation specialist now to request more information or to get a non-obligatory quotation.
Contact now

 Main switchboards
Our main switchboards are adaptable to any combination of generators without any limitation.
Arranging generator sets for synchronising, parallel operation for the purpose of continuous load sharing and load transfer using power management system (PMS).
The basic function of PMS is to ensure consistency and maximum efficiency of power generation equipment, therefore we do class compliant custom programming on PMS to match customer requirements and application.
Providing tie-breaker between MSB and busbars.
Providing auto start feature of standby generator to prevent any possibility of a blackout.
Preferential trip system to prevent single generator overload.
Providing interlock such that connection of shore power to main switchboard bus line does not allow closing of any DG or EDG breaker.
Preventing emergency generator from running with any of the main gensets or shore power in parallel operation, continuously.
Custom designed enclosures, made of 14SWG sheet steel for maximum rigidity and lifespan.
Multi-cubicle, front and/or rear access, self-supporting, and dead-front type designs with ingress protection rating of IP23 to IP44.
Emergency switchboards
The emergency switchboard designed by us is made for reliable operation in the event of an emergency, and in such circumstances, it shall automatically activate as the emergency power distribution centre.
Emergency switchboard is made similar to the construction and operation with respect to all safety measures of main switchboard.
Under normal operating conditions, the emergency switchboard shall be energised from the ship's main switchboard with the ship's main or emergency bus-tie circuit breaker and emergency generator circuit breaker remains open.
On loss of ship's service supply, the bus-tie breaker shall be tripped and emergency generator will be automatically started, which in turn allows the emergency circuit breaker automatically be closed to restore power to the emergency services.
Mod-bus serial link can be provided from emergency switchboard to ship's alarm monitoring system to transfer all alarms and indications.
Emergency switchboard provided with necessary indications and monitoring equipment as required by Class authority.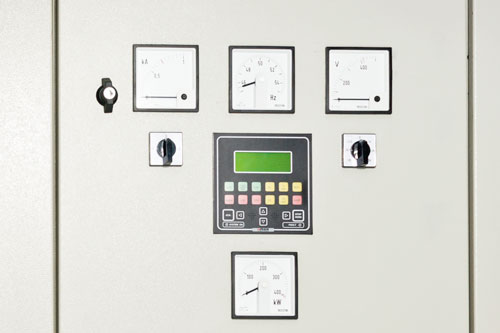 Power management system
PMS is an advanced system for full automation of power plant, including power management, diesel engine control, generator control, generator protection, and optional diesel engine safety system. Each generator set is equipped with it's own independent and autonomous PMS system. This ensures highest degree of reliability and availability. PMS is supplied as a complete product and no additional components are needed for automation of a low voltage switchboard  up to 690VAC.
Electrical drive systems
With energy efficiency as the key goal, we design and deliver electrical AC drive systems for maritime applications, which provide great advantages over conventional systems. Electrical drive systems are designed to distribute power to marine, process plants, and offshore applications such as pumps, propulsion systems, heavy duty pumps, HVAC, ventilators and winches, etc. Equipped to handle harmonic distortions, dynamic responses, and regenerative energy. Designs comply with class requirements of ABS, Lloyds, DNV, BV, and GL.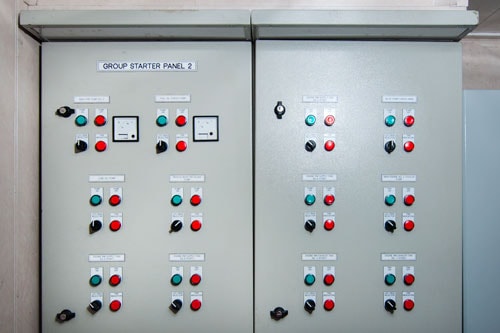 Group starter panels & Motor control circuit panels
Available in free standing or wall mounting designs, with dead front, and drip-proof make. Totally enclosed cubicle type construction and conforming to IP 23 to 56 rating. Providing separate full voltage non-reversal, combination, three-phase or four-phase, magnetic motor starters. Each starter panels are provided with motor power circuit protection and control circuit protection. Providing magnetic motor contactor with replaceable contacts. Provided with all indications and monitoring devices as per class requirements. Interfacing starter controls to external control system (alarm system, level gauging system, etc.) as per customer requirement.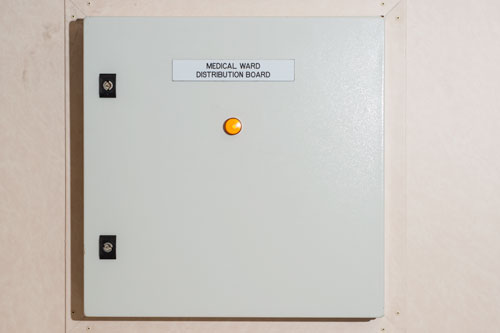 Distribution boards
Providing AC and DC distribution boards from 0 to 440 volts. Enclosures from reputed manufacturers such as Rittal, Schnieder, ABB etc. with ratings of IP44 to IP64. All control functions, indications, meters, switches, etc can be provided as per class and customer requirements. Distribution boards are provided with neoprene anti-hygroscopic rubber all around the door to make panel dust or vermin proof.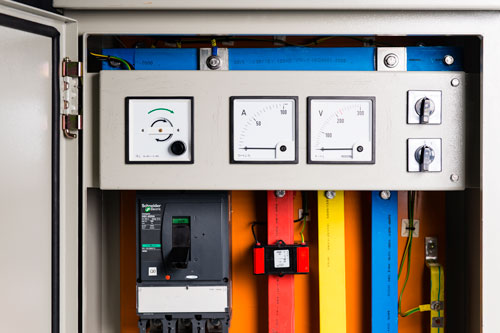 Shore connection box
Suitable for incoming and outgoing supply of 0 to 690 volts, 50 Hz / 60 Hz. Fitted in enclosure with a rating of IP 56 to IP 64. Provided with type approved, hand operated MCCB or MCB as per the class requirements and electrical load. Provided with indicators and meters as per the customer/class requirements.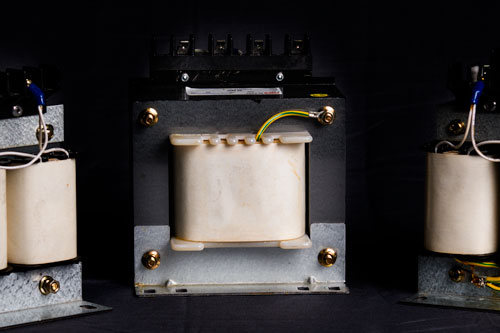 Transformers
Transformers are supplied to withstand the thermal and mechanical effects in addition to harsh marine environment. We provide transformers of both dry type and air cooled type from 0 to 6.6 kVA, 110VAC to 690VAC, 50/60Hz, 3 phase or 4 phase with or without neutral. We provide transformers with insulation class F or H as per class requirements in suitable IP rated enclosures.*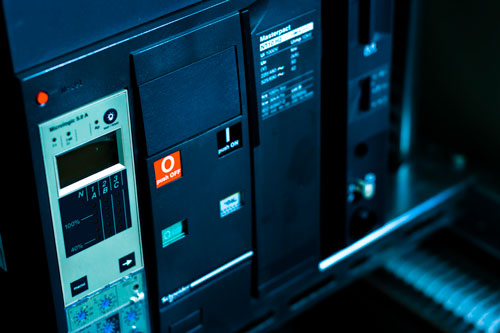 Breakers
Breakers are designed to protect power circuits and loads. Air circuit breakers: every circuit breaker is equipped with micro logic control unit that can be changed on-site. Alarms may be programmed for remote indications. Moulded case circuit breakers. Miniature circuit breakers.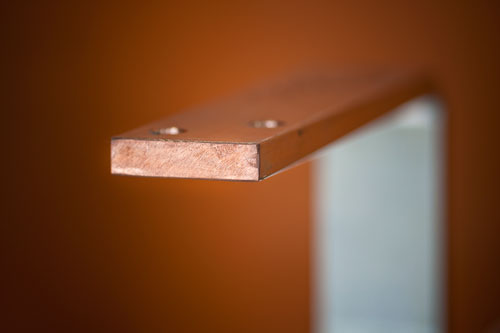 Busbar and busbar support
Busbar is made of electrolytic copper with high conductivity which has sufficient current carrying capacity for continuous operation and feeders power distribution. Busbar is designed for withstanding mechanical strains created by electromagnetic forces during maximum peak short circuits.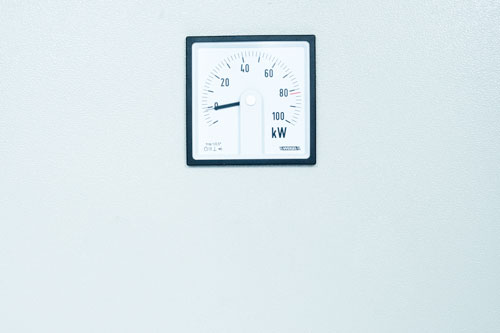 Meters
Digital and analog meters as per the customer requirements, and are type approved with manufacturer test certificate as per the class requirements.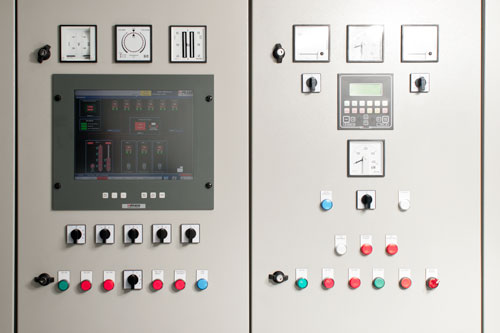 Indicators, switches, and push buttons
IP66 rated and type approved control and signalling units.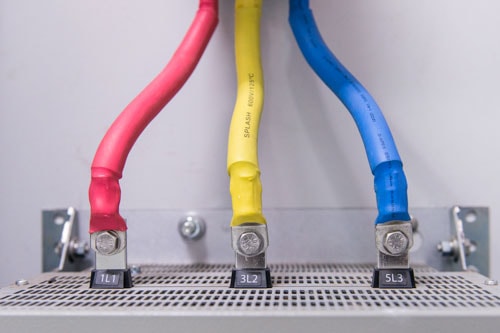 Cables
Flexible marine graded type approved panel wires, tinned/plain copper conductor, low smoke zero halogen insulation, 0.6/1 KV, as per IEC 60092-350, IEC 60332.3A.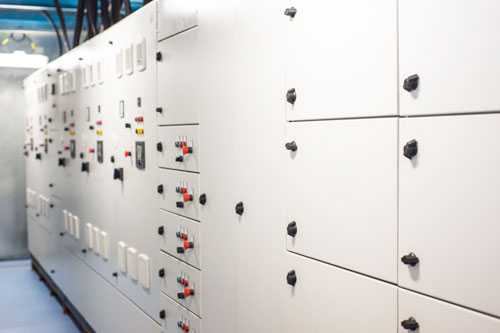 Enclosures
Type approved, customized or standard steel enclosures as per the customer requirements, to match available space, and to increase layout efficiency. Available as wall mounted or floor standing with rating from IP23 to IP66. Available in standard RAL 7033 or RAL 7035 colour or custom colour finish.