Lars Thrane LT-4100 Satellite Communications System – Iridium Certus® 100
The LT-4100 system has voice and data capabilities with 100% global coverage provided by the Iridium® Network. The system consists of a control unit, antenna unit, handset, and cradle. A single coaxial cable connects the control unit with the antenna unit. Using a standard coaxial cable, up to 500 meters of separation between the units can be obtained, giving freedom to mount the antenna unit in the best possible location, with free line of sight to the satellites.
The LT-4100 system can be used as the primary satellite communication product on vessels, covering the basic communication needs in terms of connectivity (ship to ship / ship to shore). The LT-4100 system offers 2 high quality voice channels, and IP-data 22 kbps (up) / 88 kbps (down), making it the perfect satellite communication product on board any vessel.
The LT-4100 system is designed and built for the demanding and rough environment at sea and with an operational temperature range from -40⁰C to +55⁰C (-40⁰F to +131⁰F).
Key Features:
2 x Voice Channels (high quality)
IP-data: 22 kbps (up) / 88 kbps (down)
Single antenna cable solution (up to 500 m)
Support for external SIP PABX and SIP handsets (up to 8)
POTS through Analogue Telephone Adaptors (ATA)
High-performance GNSS/GPS receiver
Ethernet LAN interface on control unit
Large 4.3" TFT display supporting day and night modes
Voice prompt audio feedback
Firewall and user authentication for high level of security
IP-data management (configuration of outgoing firewall, port forwarding, remote management, etc.)
Web server for configuration and maintenance
Prepared for Iridium Certus GMDSS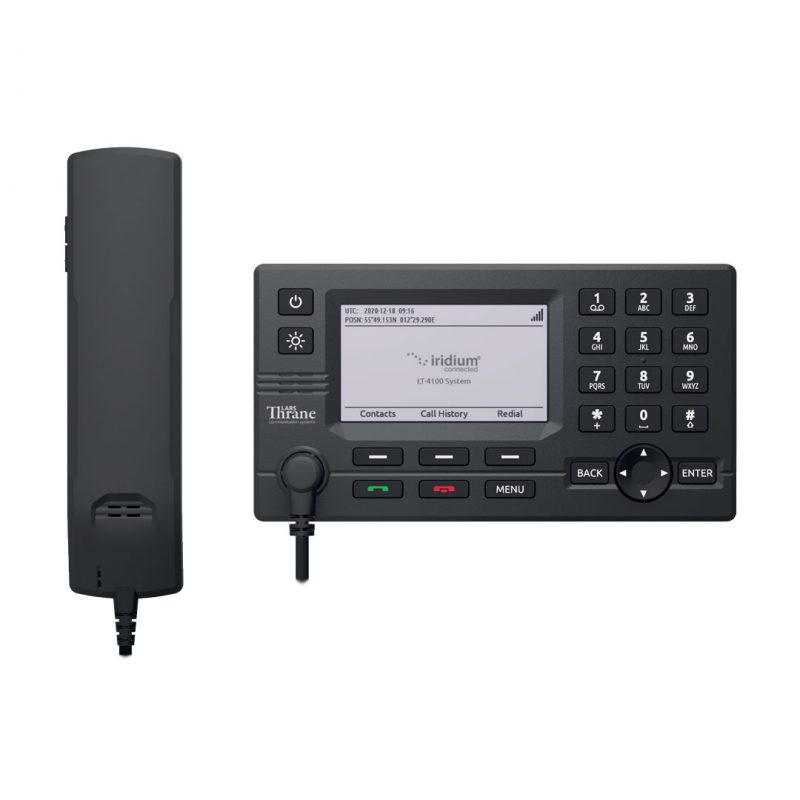 Installation
The LT-4100 system is very easy to install. Everything is included in the box to get started with the installation and operating the LT-4100 system. The control unit can be installed using either a bracket mount or flush mount. The antenna unit can be mounted using either a pole mount (1.5″ pipe, Ø38.8mm) or pole mount (2.0″ pipe, Ø53.0mm). The control unit has a large 4.3″ TFT display, from where the system can be operated with overview and ease. The built-in webserver can be used for service and maintenance.