Raymarine AR200 Augmented Reality Stabilization Module
The AR200 is an Augmented Reality Sensor consisting of a Global Navigation Satellite Systems (GNSS) Receiver and an Attitude and Heading Reference System (AHRS) sensor. The AR200 provides position, heading, pitch and roll data to compatible Axiom MFDs. When combined with a compatible IP camera or thermal camera, the AR200 enables use of the ClearCruise™ Augmented Reality features available on your Axiom MFD.
Make smarter decisions
See critical navigation objects overlaid on HD video. Surrounding AIS-equipped vessel traffic and charted navigation aids are clearly identified with rich graphics on a live, dynamic video image.
Recognize and respond to nearby marine traffic
Color-coded labels provide instant identification, status, and risk-assessment Live AIS Targets. ClearCruise AR provides positive identification of AIS equipped vessels on the horizon.
Understand complex navigational situations
Major chart objects are identified for instant, heads-up recognition. ClearCruise AR technology shows you visually where your saved waypoints and marks are located.
See your waypoints in the real world
Visualize nearby marks and waypoints for easy navigation. ClearCruise AR technology makes it easy to pick out the buoys marking the edges of the safe channel on a hazy day.
Raymarine AR200 key features
9-axis AHRS (attitude and heading reference system) sensor
28-channel GPS receiver
Fast 10Hz position updates
Satellite differential GPS-compatible. Space-Based Augmentation System (SBAS) enabled with WASS, EGNOS, MSAS and GAGAN support
When combined with a compatible IP camera the AR200 enables the use of ClearCruise Augmented reality features available on Axiom multifunction displays
NMEA 2000 compliant
IPX6 / IPX7 waterproof rating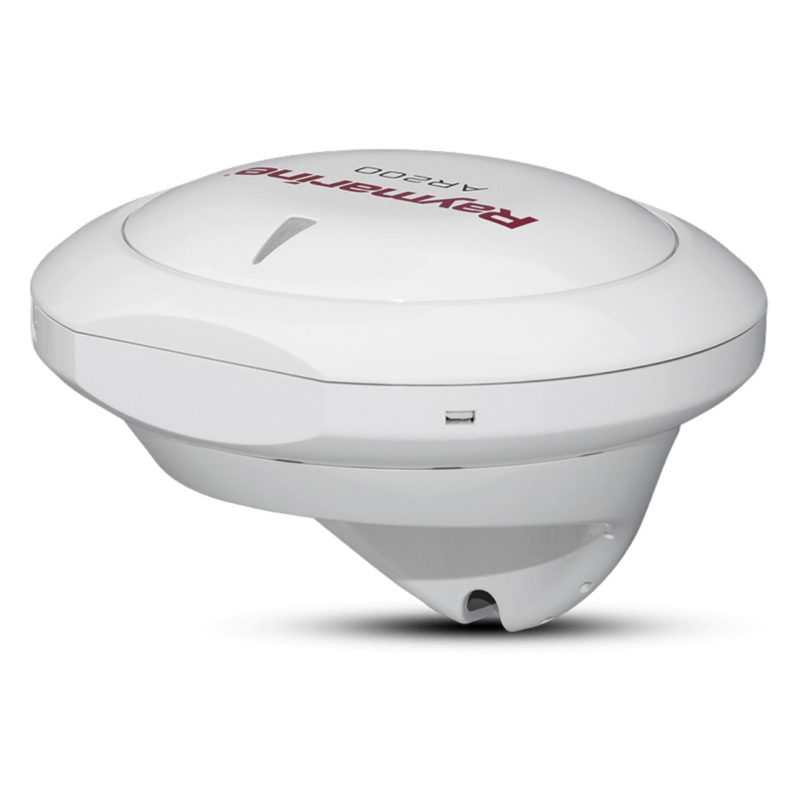 TECHNICAL DETAILS
12 V dc (Supplied by the SeaTalkng® network.)

9 V dc to 16 V dc (protected up to 32 V dc)

LEN (Load Equivalency Rating)

Operating temperature range

-25 ºC to +55 ºC (-13 ºF to 131 ºF)

Storage temperature range

-25 ºC to +70 ºC (-13 ºF to 158 ºF)

Australia and New Zealand C-Tick compliance

Simultaneously track up to 28 satellites.

Re-acquisition = -160 dBm

Satellite differential type (SBAS)

Position accuracy without SBAS (95%)

Position accuracy with SBAS (95%)

Time to first fix from cold start

<2 minutes (<60 seconds typical)

Time to first fix from hot start

3–Axis digital accelerometer

3–Axis MEMS Gyro digital angular rate sensor

Magnetic compass accuracy

Pitch, Roll and Yaw accuracy

Heading, Pitch, Roll and Rate of Turn update rate