The Koden MDC-2040A series marine radar presents performance and functions of larger professional grade radars. The series features sophisticated Hyper Digital Processing (HDP™) technology for real time presentation and superior target discrimination. The superior target discrimination virtually eliminates unwanted noise to provide a clearer detailed image of targets and enhances the detection of smaller targets. Also various functions on the compact body are of considerable use for both fishing and leisure boats.
Koden MDC-2040A series marine radar features:
True trail function
The display shows the precise movement of other vessels like drawing tails, while land and buoys are shown as stationary objects even while your vessel is moving. This makes it easy for you to distinguish moving targets from stationary objects.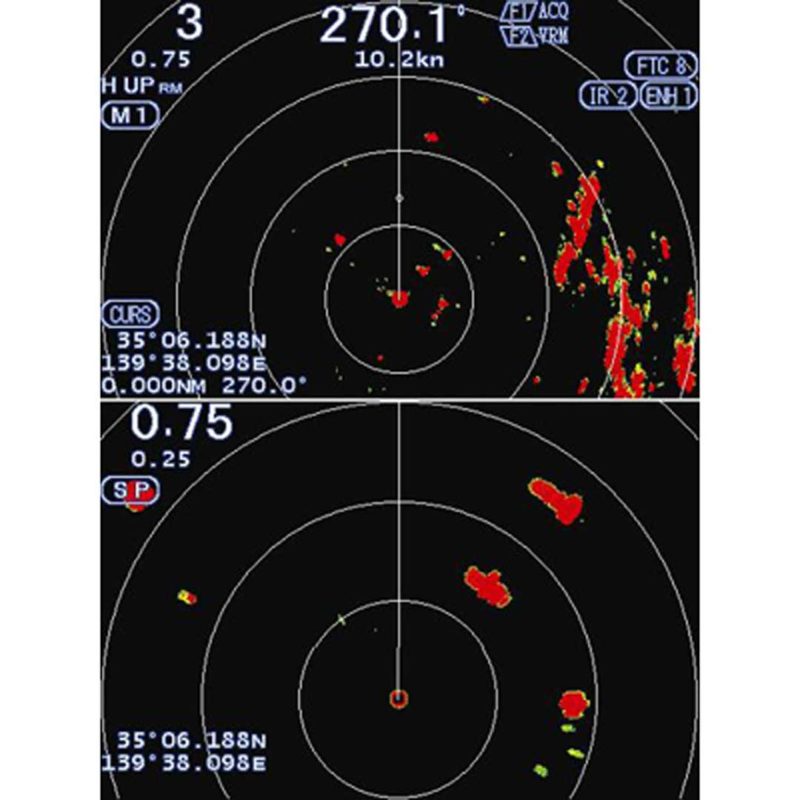 Dual range display
Exclusive dual range radar feature lets you view split-screen display of both long and short-range targets simultaneously. It's like having two radars in one.
CCD camera input
Accepts CCD camera input, with which you can watch above deck and below deck any time you are steering.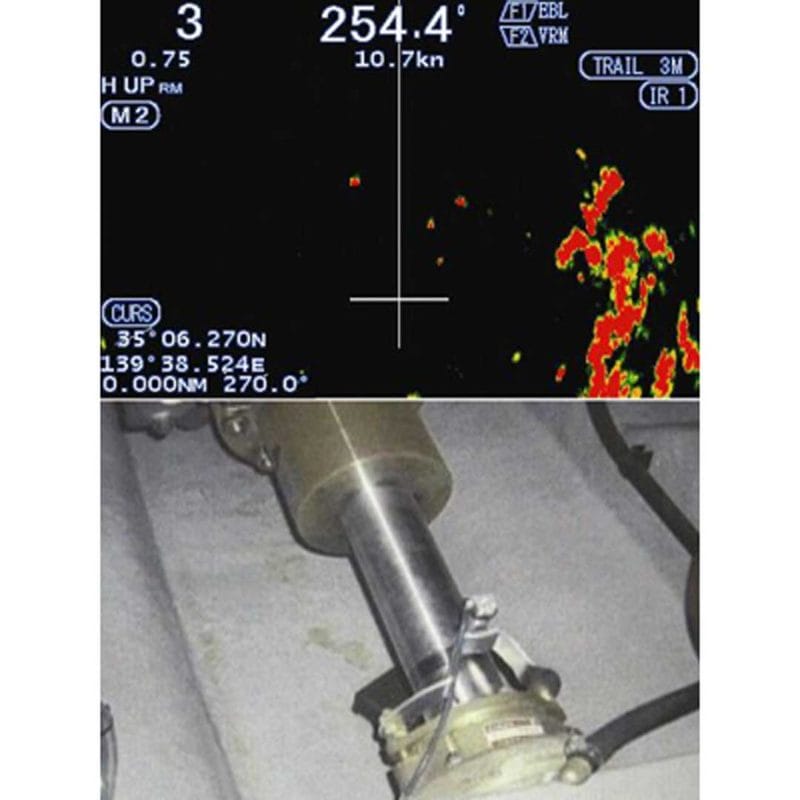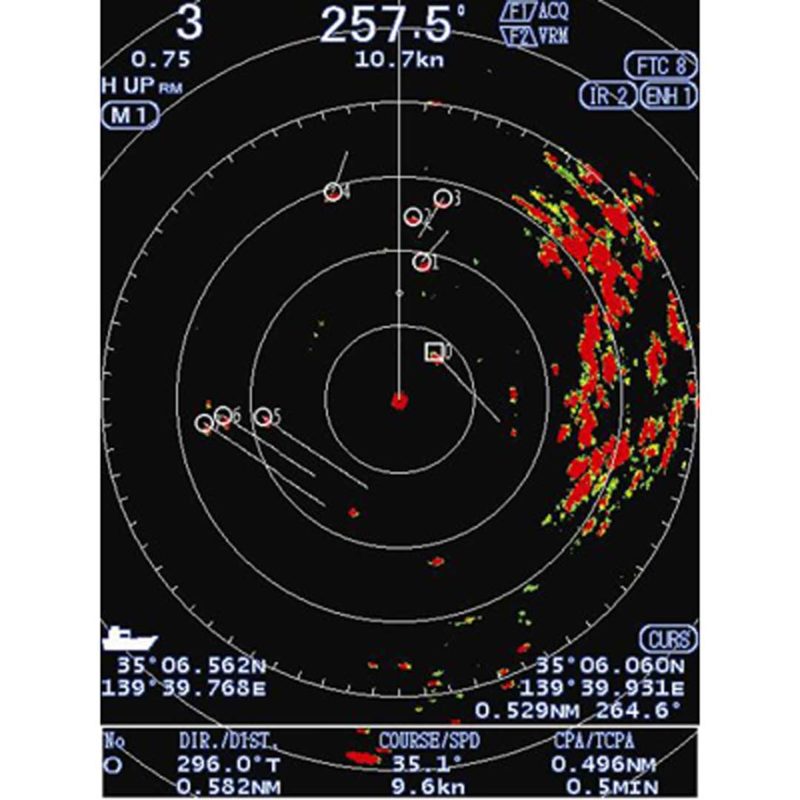 ATA with up to 50 targets (optional)
The convenient ATA (Automatic Tracking Aid) function comes as option. The latest movements of other vessels can be shown instantaneously in vector and numeric form, ensuring safe navigation. If the automatic acquisition zone is set, the targets (up to 50) entering the zone will be locked on automatically.
AIS interface with up to 100 targets (optional)
When connected with an AIS receiver, the radar displays information on up to 100 targets including the name, heading, and speed of each vessel with an AIS transmitter mounted.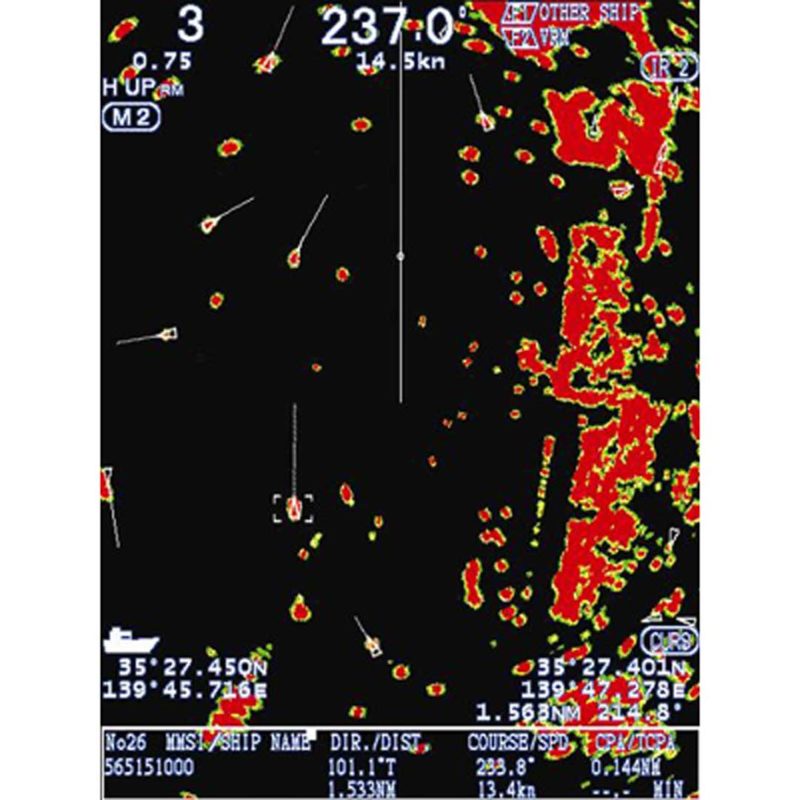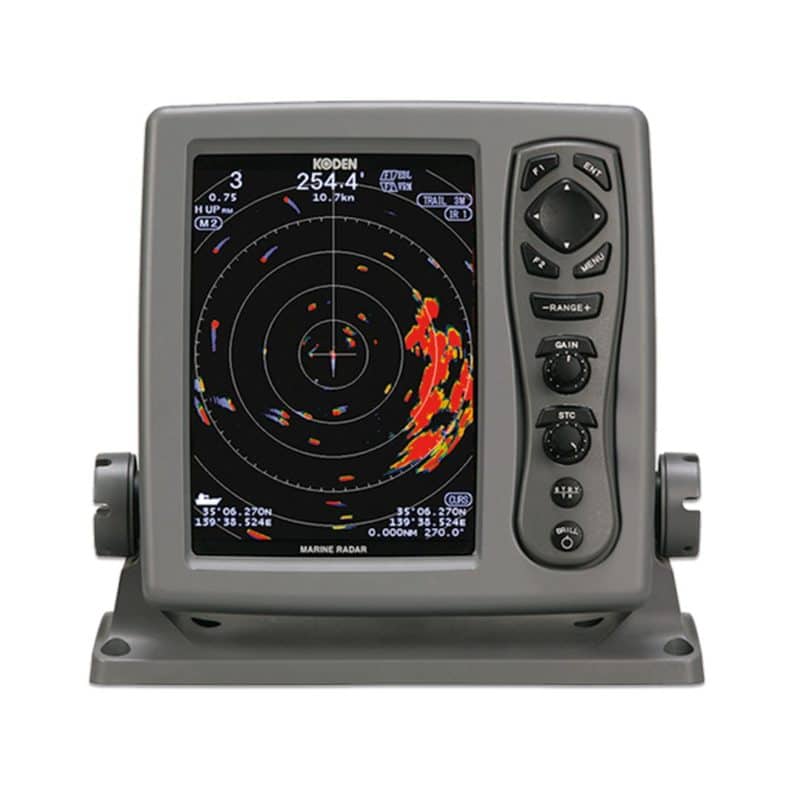 Other features
The MDC-2040A series LCD displays are directly bonded with an anti-reflective coating to increase visibility under direct sunlight and also prevent condensation. The picture moves smoothly in proportion to changing bearing, displaying smooth, real-time head-up indication. The MDC-2040A series marine radar can be connected to an external monitor via an RGB output. You can monitor the Radar even when you are away from steering.
TECHNICAL DETAILS
Model
Koden MDC-2040A

Antenna-Scanner unit

Type
RB716A
Antenna type
Open antenna
Antenna length
3-feet / 4-feet
Output power (peak)
4 kW
Output frequency
9410 MHz ± 30 MHz
Horizontal beam width
2.5° / 1.8°
Vertical beam width
22°
Rotation
24 rpm or 48 rpm
IF center frequency
60 MHz
Range accuracy
8 meters or 1% of the range scale selected, whichever is the greater
Bearing accuracy
1° or less
Minimum detecting distance
Within 25 m
Range resolution
Within 25 m
Pulse width
0.08 us, 0.15 us, 0.3 us, 0.5 us, 1 us

Environmental

Operating temperature
-25°C to +55°C
Water protection
IPX6

Display unit

Display size and type
10.4" color TFT LCD
Effective diameter
157.4 mm
Display resolution
480 x 640 pixels (VGA)
Off-centering
Max. 66%
Echo area
2 types (Full screen, Inside of effective diameter)
Basic range
0.0625 to 48 NM
Range scales
0.0625 | 0.125 | 0.25 | 0.5 | 0.75 | 1 | 1.5 | 2 | 3 4 | 6 8 | 12 | 16 | 24 | 32 | 48 | 64 | 72
Range interval
0.03125 | 0.0625 | 0.125 | 0.25 | 0.5 | 1 | 2 | 3 | 4 | 6 | 8 | 12 | 16 | 18
Presentation modes
Head-up, North-up*, Course-up*, WPT-up**
Indication system
PPI, PPI/PPI, PPI/NAV
Video level
8 levels (colors)
Range unit
NM, km, sm
Alarms
Echo (IN/OUT), ATA/AIS (CPA/TCPA) etc.
Functions
Interference rejection, Target expansion, VRM, EBL (true*/relative), Parallel index, Cursor position (Lat/Lon)***, Bearing (true*/relative), Trail***, RGB Monitor output, Slave display monitor input/output, External Buzzer output, Accepts CCD camera input, etc.
Input data format and sentences
NMEA0183 Ver. 1.5/2.0/3.0
BEC, BWC, BWR, DPT, DBT, GGA, GLL, GNS, HDG, HDM, HDT, MTW, MWD, MWV, RMA, RMB, RMC, VHW, VTG, XTE
Output data format and sentences
NMEA0183 Ver. 2.0
TTM, TLL
NMEA input / output(s)
2
AIS interface***
100 targets (option)
ATA***
50 targets (option)
Power supply
10.8 to 31.2 VDC
Power consumption (at 24 VDC)
80 W or less

Environmental

Operating temperature
-15°C to +55°C
Water protection
IPX5
Note:
*Requires bearing data input.
**Requires waypoint data input.
***Requires bearing data, ship's speed data and latitude/longitude data input.