Raymarine Axiom XL Multifunction Navigation Display
The Axiom XL range is the pinnacle of Raymarine navigation and modern helm integration. Designed for glass bridge installations, Axiom XL displays offer superior performance, large format visibility and elegant simplicity. Engineered to perform in extreme conditions, the fully waterproof Axiom XL family of glass bridge MFDs can be installed in both cockpits and enclosed bridge stations. Each model uses in-plane switching technology (IPS) and Raymarine optical bonding to deliver wider viewing angles, sharp contrast, and unmatched readability in bright sun. Available in 16, 19, 22 and 24-inch display sizes, Axiom XL's edge-to-edge glass construction gives vessel designers the ability to create integrated and elegant navigation helm appearance.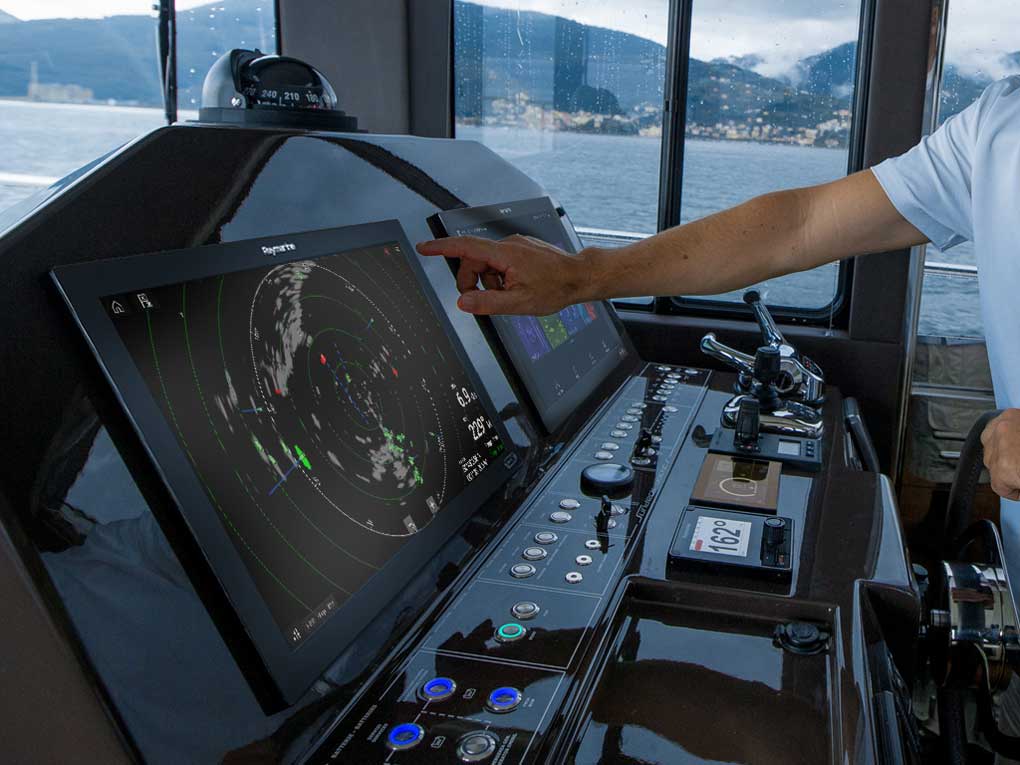 Superior integration
A powerful network and video integration platform, Axiom XL displays feature Ethernet ports for connecting radar, CHIRP and 3D sonar modules, plus additional Axiom family displays. FLIR thermal camera support enhances awareness and HDMI input enables Axiom XL to serve as a remote PC or entertainment display.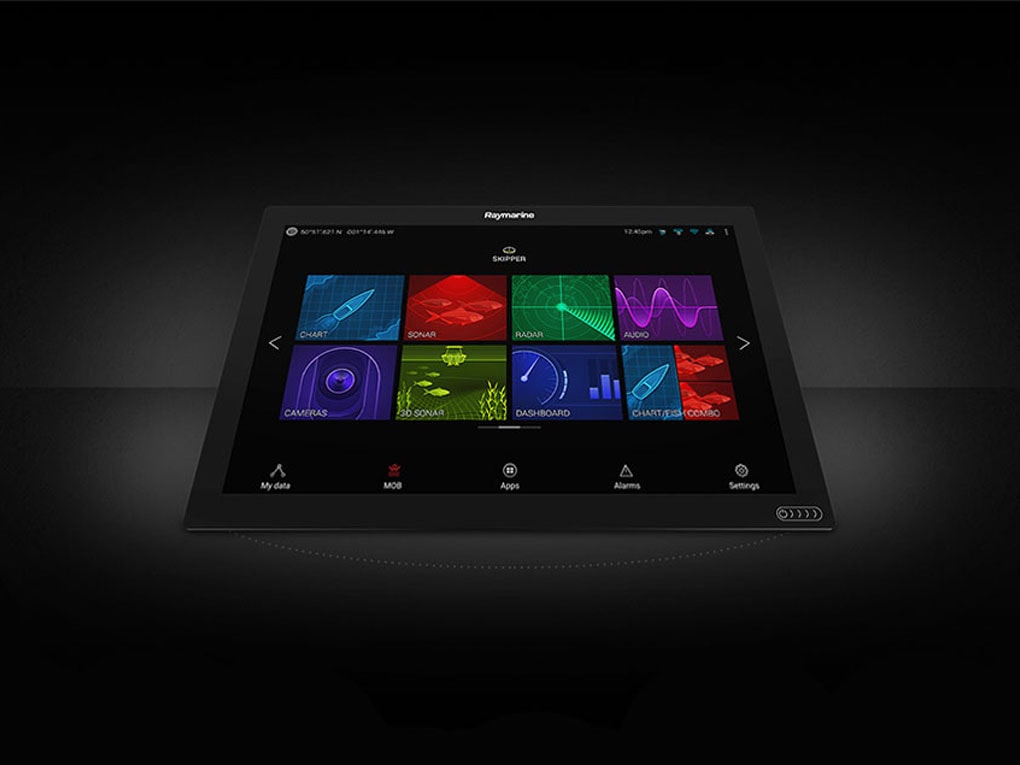 Elegant simplicity
Axiom XL displays are powered by LightHouse 3 OS and offer a fast, fluid and uncluttered interface that is easily personalized for your navigation style. Enjoy multi-touch screen control or add the Raymarine RMK-10 keypad for complete remote system control.
Raymarine Axiom XL glass bridge multifunction features
Smart and Rugged All-Glass Display is optimized for flush or surface mounting and features sleek buttonless design with swipe-tp power touch control. A built-in-ambient light sensor automatically adjusts display brightness based on lighting conditions.
Access Axiom Everywhere using Axiom XL's HDMI video output. Monitor Axiom from the big screen  below deck or stream Axiom XL to your phone or tablet with Raymarine mobile apps.
Elevate Awareness with Quantum 2 CHIRP radar and Doppler target tracking, the easier way to keep a watchful eye on potential dangerous targets.
Bring your computer to the helm. Axiom XL lets captains view and control a remote personal computer's HDMI output and USB touch screen control.
Connect Even More with LightHouse Apps. Expand the power and capabilities of Axiom XL by streaming mobile entertainment apps and connect with leading marine technology partners like Seakeeper, Mazu and Lumishore.
Vessel Automation with Raymarine Digital Switching solutions for boat builders. Axiom XL Digital Switching technology offers simple touch screen control of onboard electrical devices.
An Extra Set of Eyes for safer navigation with FLIR ClearCruise™ thermal object recognition. Let Axiom XL and FLIR be your sixth sense on the water so you can navigate safer, both night and day.
Navigate with the Best Charts from Navionics, C-MAP, and Raymarine's library of LightHouse raster of vector charts from leading map makers.
Keep Watch on the crew or engine room with marine video cameras. Connect both analog and video over IP to view 4 simultaneous video streams. Built in recording capability transforms Axiom XL into an onboard DVR.
Get Underway Faster with the intuitive LightHouse 3 OS. Spend seconds, not minutes, plotting your next course. LightHouse 3 is easy to learn and easy to customize.
Ready to Fish with the optional RVX1000 remotely mounted 3D CHIRP sonar module. Experience Raymarine CHIRP sonar and award winning RealVision™ 3D on the big screen.
Stay on Cruise with the advanced Evolution autopilot integration. Plot a waypoint on Axiom XL and let Evolution's 9-axis intelligent sensor keep you on the perfect course.
TECHNICAL DETAILS
Top 88' / Bottom 88' / Left 88' / Right 88'

Top 89' / Bottom 89' / Left 89' / Right 89'

Inline fuse = 15Amp, or Thermal breaker = 15Amp

Operating temperature range

Storage temperature range

64 GB Solid State (62 GB usable)