Virustatic Shield - Face Shield
The Virustatic Shield has been designed and developed to reduce pathogenic microbial intake into the human respiratory system. Its revolutionary protein coating works to disable viruses on contact to help slow the spread of infections. Virustatic Shield (Face Shield) has been proven during testing against the H1N1 influenza virus. In addition, the protein layer is designed to allow the face shield to be touched without transferring the virus for non-hazardous disposal once used.
360° snood design -  Face Shield
Virustatic Shield can be issued as front line protection for workers including passengers traveling via helicopter to and from offshore structures such as oil rigs and wind turbines. Its lightweight 360° snood design moulds to the wearer's face, allowing the shield to be comfortably worn for hours at a time and will stay in place even when approaching a helicopter with its main rotor in motion.
Virustatic Shield features:
360º 'snood' style
Proven to be over 96% effective against the influenza virus
Cuts risk of cross contamination from saliva droplets
Designed to provide two-way influenza virus protection (prevents infecting and infection)
Hygienic fabric coating disables the virus, so the shield is safe to touch
Protects critical virus infection points: mouth, nose and ears
Non hazardous disposal
Natural fabric for breathability
Designed for comfort
Easy to fit
Multi-layer anti-counterfeit security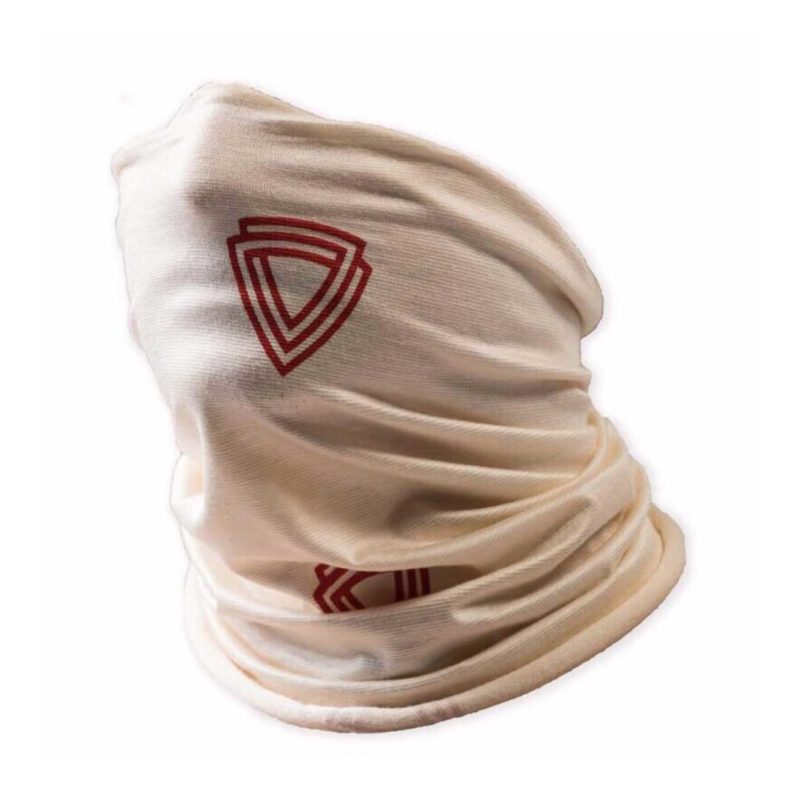 The science behind the Virustatic Shield
Influenza infects its host by binding to receptors in the upper respiratory tract.
Once there, it can cause  coughs, fever, breathing difficulties and, in severe cases, organ failure.
Each virus is wrapped in a protein "envelope". Virustatic Shield's innovative fabric coating disrupts this protective membrane, killing virus.
Virustatic Shield's cationic properties mean it works on a virus even though it is 400 times smaller than a human hair and easily, small enough, to pass through material.
Certification
The UK's trade association for the safety industry, the British Safety Industry Federation, confirms Virustatic Shield's classification as a "face covering".
Manufactured in the United Kingdom in an ISO 9001:2015, ISO 14001:2015 and OHSAS 18001:2007 certified plant. Manufacturers Certified Standard 100 by OEKO-TEX®